Brick and Concrete Cleaning Anne Arundel County Maryland
Mike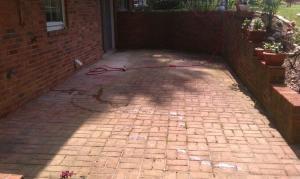 Is it time for a concrete cleaning?
Do you have brick or concrete that looks like this?
Did you try to wash it and could only do this?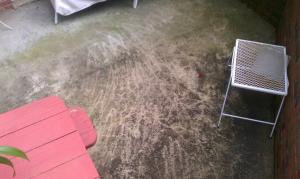 Did you know that most of that "dirt" isn't dirt. It's a combination of algae, mold, bacteria, a lot of nasty stuff, and it's right outside your house! Plus it doesn't look good either.
Did you know that it's very slippery when it is wet?  A guest, friend or family member could slip and fall! This is the same with concrete sidewalks, concrete around your pool, wood decks… any flat surface that is walked on.
With the right equipment, experience and know how brick and concrete cleaning is easy!
Watch this video.
For the best cleaning you have to know and understand the surface you are cleaning first. You also have to know what it is that you want to safely remove from that surface. We do!
Gutterdogs does concrete cleaning, house washing, wood restoration, no pressure roof cleaning, gutter cleaning, inside and out, and we even do dryer vent cleaning.
Give us a call for a free evauation and estimate! 240-355-1110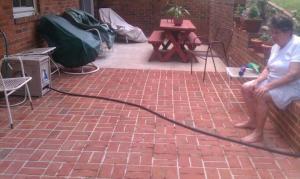 Yes this is the same house. To effectivly clean you must understand the surface and what it is to remove. To remove it safely and the longest lasting method of cleaning.
Simply pressure washing with high pressure damages the surface and simply spreads the "dirt" all over the place. Concrete and brick is pourous. Simple pressure doesnt get into all of the little nooks and crevices. It's not a complete cleaning. It can damage the "creme" which is the top smooth layer of the concrete. High pressure can dislodge the mortar between the bricks.
Give us a call for all of your exterior cleaning needs 240-355-1110
topic: brick and concrete cleaning anne arundel county maryland