Need rust stains removed from your concrete?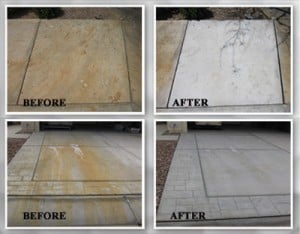 Maryland Professional rust removal is an art and a science.  Every case of rust removal, be it a fertilizer rust stain removal, irrigation rust stain removal  or orange battery acid staining is a little different.  Rust on concrete is one the most difficult concrete stains to remove.  Gutterdogs has been trained to recognize the different types of concrete rust stains and how to remove them without surface damage to your concrete. Rust removal on concrete is never a "spot application."  Gutterdogs restores your concrete, as well as the rust spot to ensure an even appearance and deep cleaning.  Experience combined with proper training and cleaning techniques makes Gutterdogs the right choice for your restoration needs.
Rust removal in Maryland
This method to remove the rust stains, is a very safe no pressure method. The rust dissapears in front of your eyes! Much like our vinyl siding cleaning or roof cleaning service! Pressure does damage and doesnt last as long as our method to clean different surfaces. Once again the trick is knowing the surface, AND knowing what it is you want to remove from that surface. AND knowing how to remove it safely with out damaging that surface, AND the longest cleaning effect possable.
Rust removal/cleaning
With rust removal Gutterdogs understands what it is, and how to safely remove the rust like it was never there to begin with. So if you have rust stains on your siding, concrete or brick. If you have rust stains, fertilizer or battery acid stains on any surface we can safely remove it, with no damage to the surface, and this cleaning last longer than any other method.
Here is a video we made that some rust removal https://www.youtube.com/watch?v=B991INKK4jU
Gutterdogs is an F9 Authorized Applicator.